Endangered Species
Hi there fellow ALA members,
Standing up for librarianship is something I have being doing for a very long time. Read this 2008 NPR piece…
——————————————————————————————————————–

'Endangered Species': Black Male Librarian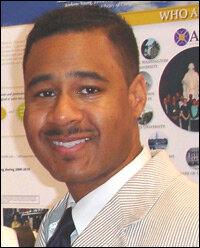 We're used to hearing about racial and gender disparities in many professions, but here's one instance of it you probably haven't heard about before:
Of the roughly 110,000 credentialed librarians in the United States, only about 600 are black men. That's about 0.5 percent of all librarians.
Put another way, if they all got together for a meeting, they could probably hold it comfortably in your local library.
And, in fact, many of them are now at a meeting — the annual American Library Association's conference in Anaheim, Calif., where this weekend Library of Congress researcher Julius Jefferson is chairing a panel on the scarcity of black male librarians.
It's not that qualified black men are being turned away, Jefferson says. "We just don't have a lot of African-American males — and even a lot of African Americans — seeing librarianship as a viable career option." The vast majority of all credentialed librarians are female, and Jefferson says that helps to fuel the stereotype that it's not a job for men. The numbers of black male librarians have actually been declining in recent years.
It's not as if there's ever been a golden age of black librarians, says Jefferson, but there is a history of African-American men who are bibliophiles who document black culture in their communities. It's important, says Jefferson, because librarians are culture-keepers who help to transmit awareness of identity and an understanding of community and cultural history.
"Whatever you want to do in life, there's a librarian behind that," Jefferson says.